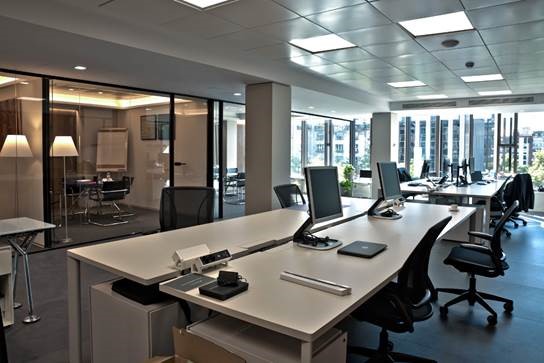 NORGESTION has changed its headquarters in Barcelona. After 20 years in Paseo de Gracia, they now expand their facilities moving to Avenida Diagonal in the heart of Barcelona's finacial centre. The new offices are prepared to host professionals and clients in a spacious, modern space.
Ricardo Velilla, director of the Barceona office, highlights the investment in open workspaces in a comfortable, modern and digital environment. Specialiced in Corporate Finance services and multidisciplinary advice to companies, Norgestion is consolidated as one of the leading firms in the corporate advice sector and continues to expand geographicaly within Spain.
The whole Corporate Finance team, made up of 30 professionals, coming from San Sebastian, Bilbao, Madrid, Barcelona, Sevilla and Pamplona, met in the new premises where they discussed business strategies and analyzed current markets and expectations.

Jose Antonio Barrena, General Director, opened the meeting hlighting the ability and commitment of the firm's professionals to bring projects to a successful completion. Finally, he stressed how important the Catalan market is for NORGESTION and how its deep and extensive experience in working with familiy business can help one of the main engines of the Catalan business network.